Welcome to our Tournament
This year the tournament will be solely at Rec level.  We would appreciate it if you could favour your newer players in this fun, recreational tournament.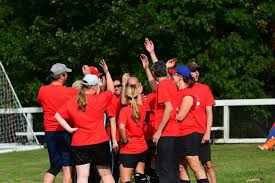 When?
27 August 2022, first games at 9am.
Where?
At our home ground at Horspath Road, Oxford.
Facilities
Changing rooms (on request), bar, toilets, showers.
Format
8 teams over 2 diamonds.
Timed games (no new after 50)
First games start at 9
2 groups of 4: Play Round Robin, then top 2 of each group go into cup semi, lower 2 of each go into plate semi. Finals comprising the winners of the semis.  (No play offs for lower positions.)
Cost
£120 per team, payable before 19 August 2022.
Facilities
Food and drink will be available from rugby club.
Camping
We are currently exploring options to camp over on the Friday and/or Saturday evenings
How to register your interest
Please fill in the form below.  Someone will be in touch shortly.