Welcome to the home of softball in Oxfordshire and the Oxford Softball League. Here you will find details of how to join a team, how to get in touch to find out about introductory training, as well as details (coming soon) of the season schedule and league table.
Softball has been played in Oxford since at least the early 1980s which led to the founding of the Oxfordshire Softball Association (OSA) in 1990. The Oxford Softball League plays most of its games on Tuesday and Thursday nights at Horspath Athletics and Sports Ground, Horspath Road, Oxford OX4 2RR.
Visit our Facebook page for regular announcements and details of events, training, and games.
Softball in Oxford
Currently, the Oxford Sof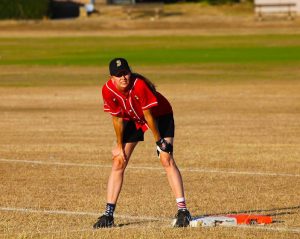 tball League is for mixed (co-ed) slowpitch softball; however, there are opportunities for 'single sex' tournaments and many of our players play fastpitch softball. Slowpitch softball is a social team sport, played by teams made up of 5 men and 5 women. The ball is thrown (pitched) underarm and hit by the batter towards the fielders on the defensive team, who wear gloves on their non-throwing hands to catch the ball. Its closest comparable sport is baseball. Despite its name, the ball is hard, but larger than a baseball. Find out more on our About softball page.
Looking to play?
If you're new to the sport or the league and would like to attend an introductory session, please head over to our new players page. We'd also love to hear from you if you've played before and are simply looking for a team.
The 2021 Softball Season
Following the government easing of restrictions and guidance from Sport England and BaseballSoftball UK, we are delighted that softball was able to start again in Oxford in April.  Safety procedures are in place around the sessions but actual game rules are unaffected.  COVID risk assessments have been completed.  The league has an overall COVID-19 Officer and every team has its own COVID-19 Officer.  At each game that person has responsibility for the special procedures which must be followed by all present.  Players are required to register before attending. However, as an outdoor, and relatively socially distanced sport, we are confident that softball can be played safely and provide some much needed physical activity for our players!
Our League Games
Even though we're being super-un-competitive for the first seven weeks, you can still see the scores and a league table.  If you want to know when you're team is playing next (and how to register for Covid-19 tracing, click on your team name in the menu to see your schedule.
League games are at Horspath Sports Ground each Tuesday and Thursday up to 17 June (see schedule).  Then Tuesdays only, with the occasional Thursday for rained-off games.
Registration links will be emailed around to captains and to registered players.  If you're new, and want to get in on the action, please register as a new player first.
training Sessions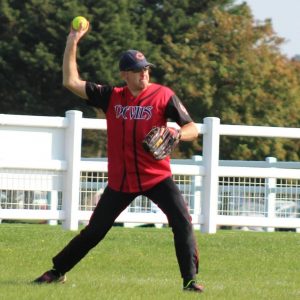 Sunday training sessions (£3 per head to cover the cost of pitch hire) on:
9, 16, 23 May, 2-4 pm (Pitch 1)
Thursday training sessions (again £3 per head) on:
3, 10, 17, 24 June, 6.45 – 8.30 pm (Pitch may differ each week).
Experienced league players:
If you'd like a Sunday scratch game, please let your captain know.  If we have enough interest, we could book a pitch.
Covid-19 registration form for Thu 17 June training (for Test and Trace)
New Players Welcome!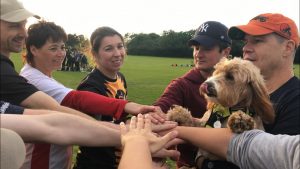 New players are always welcome and we will be running a series of pre-season sessions throughout April which offer an ideal opportunity to get involved. If you are interested in registering for such events, please let us know:
These sessions are completely free of charge and all equipment is provided – all you have to do is turn up and give it a go!
No experience is necessary but if you have played before that's an added bonus. There is no such thing as a 'typical' softball player – players in our league range in experience (from complete beginners to those that play at the highest national level), age (from 14 to 60+), fitness levels and nationality.
However, being a co-ed league makes us extremely sociable – you will find most players in the onsite bar after games, there are social events throughout the year and some even play weekend tournaments together.
So, whether you are…
Looking for a new sport to try
Looking for a way to meet new people
An experienced player looking to join the league
A player who hasn't played for a while and wants to return to softball
…Oxford Softball is the place for you!
2021 News
Rain-outs
After some games were rained off on 13 May, we had to adjust the schedule.
Sprits @ Rebels is now down to play on 3 June, on Diamond 1 (Mavericks providing the umpire)
Tigers @ Angels is now down to play on 10 June, on Diamond 2 (Knights providing the umpire)
Umpire duties have been swapped for the above games, to avoid nights when the umpire's team is due to play