Welcome to the home of softball in Oxfordshire and the Oxford Softball League. Here you will find details of how to join a team, how to get in touch to find out about introductory training, as well as details of the season schedule and league table.
Softball has been played in Oxford since at least the early 1980s which led to the founding of the Oxfordshire Softball Association (OSA) in 1990. The Oxford Softball League plays most of its games on Tuesday and Thursday nights at Horspath Athletics and Sports Ground, Horspath Road, Oxford OX4 2RR.
Visit our Facebook page for regular announcements and details of events, training, and games.
Our 'Oxford Inspires' Tournament 2023
This was held on 26 August 2023 and was aimed at recreational-level teams.  It was masterfully won by the Milton Keynes Diamonds.  The Oxford Tigers were the winners of the plate competition.  Full details on our Oxford Inspires Tournament page.
Softball in Oxford
Currently, the Oxford Softball League is for mixed (co-ed) slowpitch softball; however, there are opportunities for 'single sex' tournaments and many of our players play fastpitch softball. Slowpitch softball is a social team sport, played by teams made up of 5 men and 5 women. The ball is thrown (pitched) underarm and hit by the batter towards the fielders on the defensive team, who wear gloves on their non-throwing hands to catch the ball. Its closest comparable sport is baseball. Despite its name, the ball is hard, but larger than a baseball. Find out more on our About softball page.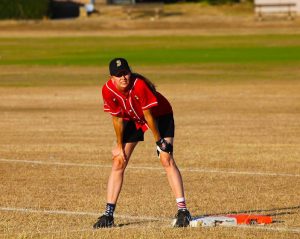 Looking to play?
If you're new to the sport or the league and would like to attend an introductory session, please head over to our new players page. We'd also love to hear from you if you've played before and are simply looking for a team.
Indoor softball during the winter season
After the excellent first session on Friday 6 October, please sign up for the second session on 13 October, from 7-9pm at the Swan School, Marston Ferry Road, Oxford.  Please tell your fellow players. Bring a glove if you have one and some sports hall-friendly trainers.  This may be another introductory fun session, before we think about some scheduled competitive games.
The 2023 Softball Season
The league began competitive games in early May 2023.  Prior to that we had:
Sundays 5, 12, 26 March Taster Sessions.
Sunday 23 and 30th April Grapefruit/friendly games
Game nights from early May onwards: Tuesdays and Thursdays
The 2024 summer season will look similar: dates to be announced in the spring.  In the meantime, there may be an indoor winter season.  Sign up for a session (see link below).
Our League Games
From early May we begin competitive games, and we are finalising the format of that right now.  But – one way or another – your team will play all other teams at least once. League games continue to be at Horspath Sports Ground each Tuesday and Thursday (see schedule when it is updated).  Registration links are emailed around to captains.  If you're new, and want to get in on the action, please register as a new player first.
training Sessions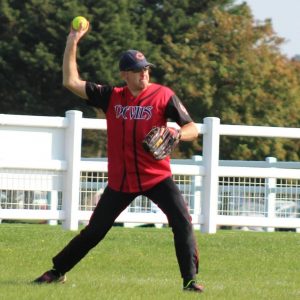 New player taster sessions often take place in March, April and occasionally during the summer.
New Players Welcome!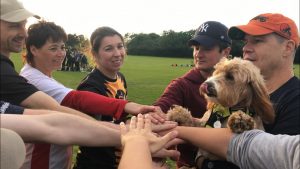 New players are always welcome and we will be running occasional training sessions, leading up to a series of pre-season sessions throughout March, and possibly April, which offer an ideal opportunity to get involved. If you are interested in registering for such events, please let us know:
Register your interest here or go straight to the link advertised above.
These sessions are completely free of charge and all equipment is provided – all you have to do is turn up and give it a go!
No experience is necessary but if you have played before that's an added bonus. There is no such thing as a 'typical' softball player – players in our league range in experience (from complete beginners to those that play at the highest national level), age (from 14 to 60+), fitness levels and nationality.
However, being a co-ed league makes us extremely sociable – you will find most players in the onsite bar after games, there are social events throughout the year and some even play weekend tournaments together.
So, whether you are…
Looking for a new sport to try
Looking for a way to meet new people
An experienced player looking to join the league
A player who hasn't played for a while and wants to return to softball
…Oxford Softball is the place for you!
2023 NEWS
Indoor softball during the winter season
After the excellent first session on Friday 6 October, further sessions are planned.  Please sign up for the second session on 13 October, from 7-9pm at the Swan School, Marston Ferry Road, Oxford.
Mandatory/recommended equipment
Batting helmets are encouraged for team play, and are mandatory for under-18 year old players when batting and baserunning (so don't take it off when you reach first base!).  U18s playing in the infield should wear a gum shield (mouth protector), and – if playing at catcher, first base or third base – should wear a catcher's mask or faceguard.  Teams should look at buying helmets with built-in faceguards this year as these will be compulsory for U18s in 2024 (next season).  Please see the explanatory document from the BSF.