Congratulations to the Spirits for winning the league in 2019!
Welcome to the home of softball in Oxfordshire and the Oxford Softball League. Here you will find details of how to join a team, how to get in touch to find out about introductory training, as well as details (coming soon) of the season schedule and league table.
Softball has been played in Oxford since at least the early 1980s which led to the founding of the Oxfordshire Softball Association (OSA) in 1990. The Oxford Softball League plays most of its games on Tuesday nights at Horspath Athletics and Sports Ground, Horspath Road, Oxford OX4 2RR.
Visit our Facebook page for regular announcements and details of events, training, and games.
---
BREAKING NEWS: Check out our 2019 season award winners (PDF).
---
Softball in Oxford
Currently, the Oxford Sof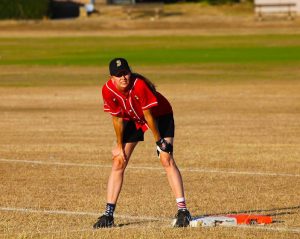 tball League is for mixed (co-ed) slowpitch softball; however, there are opportunities for 'single sex' tournaments and many of our players play fastpitch softball. Slowpitch softball is a social team sport, played by teams made up of 5 men and 5 women. The ball is thrown (pitched) underarm and hit by the batter towards the fielders on the defensive team, who wear gloves on their non-throwing hands to catch the ball. Its closest comparable sport is baseball. Despite its name, the ball is hard, but larger than a baseball. Find out more on our About softball page.
Looking to play?
If you're new to the sport or the league and would like to attend an introductory session, please head over to our new players page. We'd also love to hear from you if you've played before and are simply looking for a team.