Welcome to the home of softball in Oxfordshire and the Oxford Softball League. Here you will find details of how to join a team, how to get in touch to find out about introductory training, as well as details (coming soon) of the season schedule and league table.
Softball has been played in Oxford since at least the early 1980s which led to the founding of the Oxfordshire Softball Association (OSA) in 1990. The Oxford Softball League plays most of its games on Tuesday and Thursday nights at Horspath Athletics and Sports Ground, Horspath Road, Oxford OX4 2RR.
Visit our Facebook page for regular announcements and details of events, training, and games.
Softball in Oxford
Currently, the Oxford Softball League is for mixed (co-ed) slowpitch softball; however, there are opportunities for 'single sex' tournaments and many of our players play fastpitch softball. Slowpitch softball is a social team sport, played by teams made up of 5 men and 5 women. The ball is thrown (pitched) underarm and hit by the batter towards the fielders on the defensive team, who wear gloves on their non-throwing hands to catch the ball. Its closest comparable sport is baseball. Despite its name, the ball is hard, but larger than a baseball. Find out more on our About softball page.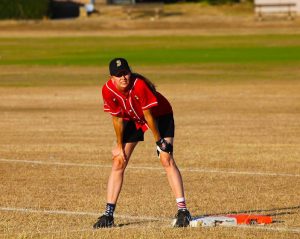 Looking to play?
If you're new to the sport or the league and would like to attend an introductory session, please head over to our new players page. We'd also love to hear from you if you've played before and are simply looking for a team.
The 2022 Softball Season
Covid restrictions now behind us, the league is due to begin competitive games on 3 May 2022.  Prior to that we have:
Thursday 31 Mar, final new player taster session at St Greg's astro
Sun 10 April: Rookie games – get your rookies along to Horspath (start time, afternoon, to be announced)
Tue 12 April, 7.30pm: Zoom captains meeting (2 reps from each team, please!)
Tue 19, 26 April 6.30pm prompt start Grapefruit games (2 pitches each)
Tue 3 May 6.45pm league games start (2 matches)
Thu 5 May 6.45pm 2 league games
Thereafter game nights: Tuesdays and Thursdays
Our League Games
During the first seven weeks we were in a 'less competitive' format to welcome lots of new players into teams within the league.  League games continue to be at Horspath Sports Ground each Tuesday and Thursday (see schedule).  Registration links are emailed around to captains.  If you're new, and want to get in on the action, please register as a new player first.
training Sessions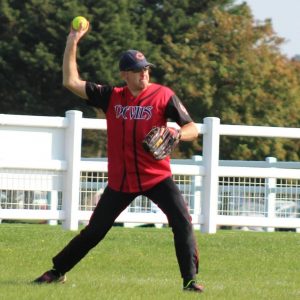 Keep an eye out for announcements!
New Players Welcome!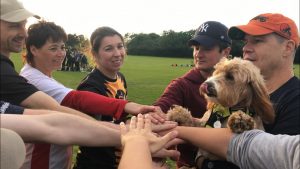 New players are always welcome and we will be running occasional training sessions, leading up to a series of pre-season sessions throughout April which offer an ideal opportunity to get involved. If you are interested in registering for such events, please let us know:
These sessions are completely free of charge and all equipment is provided – all you have to do is turn up and give it a go!
No experience is necessary but if you have played before that's an added bonus. There is no such thing as a 'typical' softball player – players in our league range in experience (from complete beginners to those that play at the highest national level), age (from 14 to 60+), fitness levels and nationality.
However, being a co-ed league makes us extremely sociable – you will find most players in the onsite bar after games, there are social events throughout the year and some even play weekend tournaments together.
So, whether you are…
Looking for a new sport to try
Looking for a way to meet new people
An experienced player looking to join the league
A player who hasn't played for a while and wants to return to softball
…Oxford Softball is the place for you!
2022 nEWS
[9 July 2022] Great barbecue last night. Big thanks to Anna and everyone else who helped to make it a success.  The new league tables (round robin, division 1, division 2) are up on the website. Points have been carried over, but there's everything to play for in the last few games.
New bases for all!
[9 July 2022] We've got some great news: we've finally managed to get some professional-standard Hollywood bases, like those here (safety base, 2nd-3rd bases). The good news is that you won't need to look after your ragged bases over the years: they will be provided by the league. BUT there's no room in the kit store! So,
the next time you are the home team and have to provide the bases…
please do so with your old bases for the last time
after the game, feel free to put your bats, balls, first aid kits etc back in the kit store but
take your old bases away that evening
AUGUST BANK HOL TOURNAMENT AT OXFORD!
[2 July 2022] Please register to get your team entered. More…
AGM 9TH aUGUST 2022
[2 July 2022] Our AGM is on 9th of August at the rugby club, as originally advertised. Please attend – it's usually very short. PLEASE think of whether you could run for an exec position. We will be seeking a new Chair at the very least. And please put yourself forward to volunteer for one of the sections (from rules to fixtures/stats to social: we need a bit of help in each.)
Other news
[2 July 2022] Barbecue is THURSDAY (not Tuesday) next week. Bring your own food to cook. (We will provide some plates, salad, sauces etc.)  Rookie/newer players are encouraged to join in with the training session planned for Thursday, 7pm  There is a pitch booked for a scratch game if you would like to play. Please tell your captain if you'd like to play so that they can arrange something. Otherwise come along to eat and drink!
The schedule for the rest of the season is now published
[2 July 2022] We've got the schedule up on the website for the rest of the season. See https://www.oxfordsoftball.uk/schedule/
Umpiring duties have yet to be finalised but they will appear shortly.
We now split into two divisions. These are set as
Division 1: Angels, Beavers, Oddsox, Rebels, Spirits
Division 2: Knights, Mavericks,Tigers, Sharks
Every team has 4 games to the end of the season.
Your points from the first part of the season carry over to the new division table.
Division 1: You play everyone else in your division once.
Division 2: As division 1 but there are extra games at the end between 1st vs 2nd and 3rd vs 4th. (These games are designed to assist in positioning the final order but do not add points to the table. Teams are expected to play the final game, even if they prove to be irrelevant in determining the final order.)
Please be respectful of pitch intrusions
[27 May 2022] I know we get irked in a game when people cross the outfield and yes, some of the invaders are just stupid, but most are oblivious that they're near a game or in danger of getting hit.  Please ask them very politely to move.  Shouting at them doesn't move them away any quicker and causes a good deal of ill feeling with our neighbouring sports.  We had a meeting with the Gaelic Football association organisers last night, who were very understanding of the problem and are trying to get people to take a route avoiding our games.  Let's be nice in return!
Also… as our Diamond 1 has – frankly – been painted to overlap with one of the GF pitches, and GF trains on Tuesdays and Thursdays, we've agreed that we will move our D1 games to D3, apart from those nights when we have 3 games going on.  Please watch out for announcements.  This arrangement is likely to begin on 7 June.  James from the rugby club will put a board out showing where the games are to be played.  (And we're trying to get D1 moved down the field a little, as soon as that can be done.)
Great start to the season!
[24 May 2022] We're a few weeks in now.  Season is going well.  The new team, the Sharks, are coming together very nicely.  Congratulations to all involved.  Unfortunately, we seem unable to purchase the bases that we'd hoped to get (another global shortage!?) so we do need you to carry on sorting out your own bases until we can put that right.
Pre-season training, recruitment, dates etc
New player taster held during March (under the floodlights at St Greg's astro)
Recruitment campaign being run in early April
Rookie and scratch games also in April
Online umpire course (free) during April – see your captain for details!
2021 News (highlights)
End of season awards and feedback session 17 Sept 2021
An evening dominated by serious and silly awards
Some very useful feedback from players:

More games and a longer season, please
Most happy to play at weekends to make the season longer
More training and coaching, please
Good, fun relaxed season this year with lots of new players
AGM highlights 10 Aug 2021
Exec committee elected: Mark Norman (Chair), Jake Murphy (Vice Chair), Jen Edis (Secretary), Stella Ackrell (Treasurer), Chris Dore (Players' Rep)
An appeal was made for at least 2 players per team to volunteer for sub-committee positions, with several volunteers coming forward
Spirits declared 2021 league winners in a closely fought contest
As you can see from our 2021 (comp) league table, we had a 3-way points tie at the top of the table, with Spirits, Rebels and Angels all with 6 points each.  The winners were worked out by looking at the head-to-head results.  These are the results where these 3 teams played each other.
Spirits beat Angels 18-11 but lost to the Rebels (9-10). However, the Rebels lost to the Angels (12-19).  This gave run differences of Angels (-7, +7 = 0), Rebels (+1, -7 = -6), Spirits (+7, -1 = +6).  Looking at this 'mini-league', the Spirits, with their positive run difference take the title.  Congratulations, Spirits!