Welcome to the home of softball in Oxfordshire and the Oxford Softball League. Here you will find details of how to join a team, how to get in touch to find out about introductory training, as well as details (coming soon) of the season schedule and league table.
Softball has been played in Oxford since at least the early 1980s which led to the founding of the Oxfordshire Softball Association (OSA) in 1990. The Oxford Softball League plays most of its games on Tuesday and Thursday nights at Horspath Athletics and Sports Ground, Horspath Road, Oxford OX4 2RR.
Visit our Facebook page for regular announcements and details of events, training, and games.
Softball in Oxford
Currently, the Oxford Softball League is for mixed (co-ed) slowpitch softball; however, there are opportunities for 'single sex' tournaments and many of our players play fastpitch softball. Slowpitch softball is a social team sport, played by teams made up of 5 men and 5 women. The ball is thrown (pitched) underarm and hit by the batter towards the fielders on the defensive team, who wear gloves on their non-throwing hands to catch the ball. Its closest comparable sport is baseball. Despite its name, the ball is hard, but larger than a baseball. Find out more on our About softball page.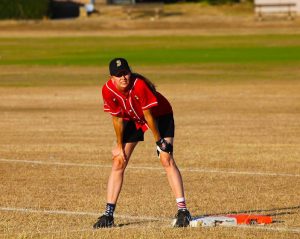 Looking to play?
If you're new to the sport or the league and would like to attend an introductory session, please head over to our new players page. We'd also love to hear from you if you've played before and are simply looking for a team.
The 2021 Softball Season
Following the government easing of restrictions and guidance from Sport England and BaseballSoftball UK, we are delighted that softball was able to start again in Oxford in April.  Safety procedures are in place around the sessions but actual game rules are unaffected.  COVID risk assessments have been completed.  The league has an overall COVID-19 Officer and every team has its own COVID-19 Officer.  At each game that person has responsibility for the special procedures which must be followed by all present.  Players are required to register before attending. However, as an outdoor, and relatively socially distanced sport, we are confident that softball can be played safely and provide some much needed physical activity for our players!
Our League Games
Even though we're being super-un-competitive for the first seven weeks, you can still see the scores and a league table.  If you want to know when you're team is playing next (and how to register for Covid-19 tracing, click on your team name in the menu to see your schedule.
League games are at Horspath Sports Ground each Tuesday and Thursday up to 17 June (see schedule).  Then Tuesdays only, with the occasional Thursday for rained-off games.
Registration links will be emailed around to captains and to registered players.  If you're new, and want to get in on the action, please register as a new player first.
training Sessions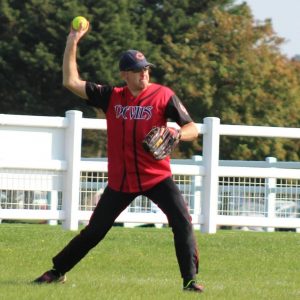 Sunday training sessions (£3 per head to cover the cost of pitch hire) on:
9, 16, 23 May, 11 July, 1 Aug 2.30-4.30 pm (Pitch 1)
Thursday training sessions (again £3 per head) on:
3, 10, 17, 24 June, 6.45 – 8.30 pm (Pitch may differ each week).
Register for this Sunday's training (Sun 1 August).
Experienced league players:
If you'd like a Sunday scratch game, please let your captain know.  If we have enough interest, we could book a pitch.
New Players Welcome!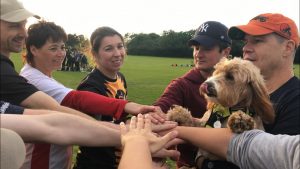 New players are always welcome and we will be running a series of pre-season sessions throughout April which offer an ideal opportunity to get involved. If you are interested in registering for such events, please let us know:
These sessions are completely free of charge and all equipment is provided – all you have to do is turn up and give it a go!
No experience is necessary but if you have played before that's an added bonus. There is no such thing as a 'typical' softball player – players in our league range in experience (from complete beginners to those that play at the highest national level), age (from 14 to 60+), fitness levels and nationality.
However, being a co-ed league makes us extremely sociable – you will find most players in the onsite bar after games, there are social events throughout the year and some even play weekend tournaments together.
So, whether you are…
Looking for a new sport to try
Looking for a way to meet new people
An experienced player looking to join the league
A player who hasn't played for a while and wants to return to softball
…Oxford Softball is the place for you!
2021 News
Season – part 2 (competitive)
We began the second part of the season on 22 June 2021.  This time it's competitive (although very respectful of our large numbers of new players, I think).  These are the temporary arrangements/rules:
As we are in a 'building year', please have as much generosity to your opponents as possible, especially where your opponents have several rookie players in evidence. On the other hand, this is a competitive phase: we're looking for winners and awards for batting etc.
So…
Usual WBSC runs ahead rule applies (20 runs after 4 innings, 15 after 5) [as usual]

However, teams are encouraged to bat out the full 7 innings, after the game has been won.
(This is due to larger squads and substitutes – often new players – needing a little game time, and may not get it if the game stops after 4, 5 or 6 innings.  Consider turning the situation to a more fun one, by mixing up the teams, or making some other sporting change that could benefit the lower-scoring teams/individuals.)

Maximum of 7 runs per inning (whether ahead or not), except in the final inning (where it's unlimited)

Or, more specifically, the inning stops at the end of the play where the 7th run has been scored (it is possible to score more than 7 runs).

Borrowing of players: maximum of 2 (regardless of gender) [new for this year]
For those teams still without a recognised pitcher, they are also allowed to borrow a pitcher (possibly in addition to the above two)
The pitcher should not bat if the borrowing team is able to field a full complement of batters [as usual]
If a team cannot field a legal 10 players, automatic outs should be played

Teams who are seeded in the top 5 (finishing places from part 1 of the season) are

strongly urged

to ignore the 'automatic out' when playing teams in the bottom 3. The lower team may only be able to field 8 or 9 players but top 5 teams are encouraged not to impose the automatic out when the 'hole' comes up in the batting order.

Collect stats on plays in your scorebook to be entered on the website [as usual]

Make sure that you note to which base each batter reaches following their hit
And note 'fielders choice'
Errors are not to be recorded (e.g. where a fielder *should* have stopped the ball, keeping the batter-runner to 2nd base only, even though the runner eventually made it home: in this case you would award a home run to the batter, not 2nd base like the professionals would).

Games, until late July must begin by 7. However, if teams wish to begin early (e.g. 6.30) that is OK, but do not forget to arrange this with opposing captains

AND your allotted umpire

(and let the umpire chief know).
From 27 July, we need to play 2 games on Tuesdays and 2 on Thursdays (due to pitch availability). The round robin (and your official games) may conclude on 5 August. However, as the 4th and 5th place is crucial, there may be a playoff for those teams lined up at 4th and 5th in the table. The entire table is very likely to determine the two divisions next season. So, extra rules:
Where the teams ranked (at the end) 4th and 5th are within 3 points of each other, they need to play off on 10 Aug in order to determine who goes into Div 1 and Div 2 next year. If their points difference is more than 2 (two) then this will not be necessary.

Clarification: if the team in 5th place would like to be in division 2 next year, they are welcome to declare this and the playoff game does not need to be played
The playoff game is not scored as points in the general table (so the team in 4th cannot pass the team in 3rd!)
Possibly a few fun games on 10 Aug as desired.