Welcome to the home of softball in Oxfordshire and the Oxford Softball League. Here you will find details of how to join a team, how to get in touch to find out about introductory training, as well as details (coming soon) of the season schedule and league table.
Softball has been played in Oxford since at least the early 1980s which led to the founding of the Oxfordshire Softball Association (OSA) in 1990. The Oxford Softball League plays most of its games on Tuesday nights at Horspath Athletics and Sports Ground, Horspath Road, Oxford OX4 2RR.
Visit our Facebook page for regular announcements and details of events, training, and games.
---
The 2020 Softball Season
Will we go the way of the Olympics and postpone to 2021, but still call it "Softball 2020"? Maybe not, but there's a good deal of uncertainty right now. Our season should start on 5 May 2020, with pre-season friendlies starting in April.
Following BSUK and BSF's announcements to suspend play until 31 May, we are continuing to suspend play for the Oxford League until the easing of lockdown measures.
When we hear what the options are for playing sport after measures ease, we will make a plan for the season and let all of you know. We are assuming some physical distancing measures will be in place for the whole of Summer 2020. Let's see what that means for team sports and softball. In the meantime, keep fit and throw a ball with members of your household! And keep checking back here for news.
---
New Players Welcome for 2020!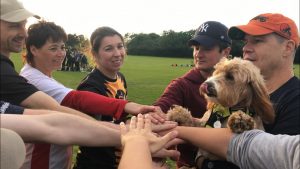 Unfortunately our new player 'have a go at softball' sessions planned for March and April have been suspended.  But if you are interested in registering for such events, as soon as they are re-introduced, please let us know.
These sessions are completely free of charge and all equipment is provided – all you have to do is turn up and give it a go!
No experience is necessary but if you have played before that's an added bonus. There is no such thing as a 'typical' softball player – players in our league range in experience (from complete beginners to those that play at the highest national level), age (from 14 to 60+), fitness levels and nationality.
However, being a co-ed league makes us extremely sociable – you will find most players in the onsite bar after games, there are social events throughout the year and some even play weekend tournaments together.
So, whether you are…
Looking for a new sport to try
Looking for a way to meet new people
An experienced player looking to join the league
A player who hasn't played for a while and wants to return to softball
…Oxford Softball is the place for you!
---
2019 SEASON NEWS: Check out our 2019 season award winners (PDF).
---
Softball in Oxford
Currently, the Oxford Sof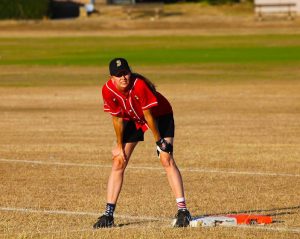 tball League is for mixed (co-ed) slowpitch softball; however, there are opportunities for 'single sex' tournaments and many of our players play fastpitch softball. Slowpitch softball is a social team sport, played by teams made up of 5 men and 5 women. The ball is thrown (pitched) underarm and hit by the batter towards the fielders on the defensive team, who wear gloves on their non-throwing hands to catch the ball. Its closest comparable sport is baseball. Despite its name, the ball is hard, but larger than a baseball. Find out more on our About softball page.
Looking to play?
If you're new to the sport or the league and would like to attend an introductory session, please head over to our new players page. We'd also love to hear from you if you've played before and are simply looking for a team.